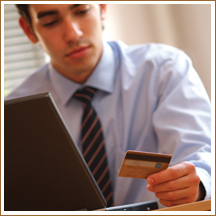 E-Commerce is used for the buying of goods and services over the Internet.
The amount of trade conducted electronically via the world wide web drawing on innovations in electronic funds transfers,
on-line transaction processing and Internet marketing has grown immensely .

NuPay E-Commerce is a payment portal solution embeded into a merchants website providing a means to collect funds
via the internet for goods or services rendered. Merchants have access to web based reporting
on all transactions processed through their portal via the NuPay website.

Qualifying merchants must operate an ABSA Bank business account.