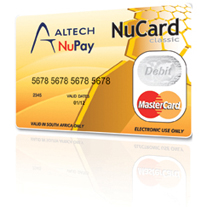 NuCard is a web based electronic facility whereby a registered merchant can transfer a credit value to an end customer on an electronic card.
The end customer can then use the credit value stored on the card for card payments at any MasterCard POS pay point,
or withdraw cash from any ATM within South Africa. NuCard is safe, convenient and provides a great alternative
for carrying cash and has the convenience of a bank card without the hassle of dealing with the bank.
NuCard reduces the risk and cost of cash handling.
NuCard – the convenience of cash, the security of a card