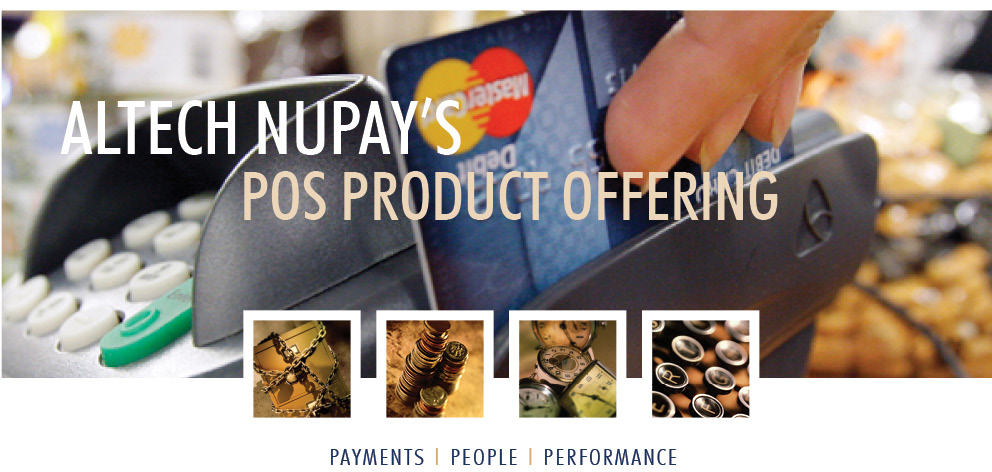 NuPay POS (Point of sale) is a secure, stable and user-friendly terminal based product which will benefit
all businesses requiring immediate processing of transactions.
The NuPay POS system provides a merchant with an electronic payment system whereby a consumer
can pay for goods or services using a normal debit or credit card. The funds will be directly accessed and deducted
from the customer's account and settled daily to the merchant's account.
The NuPay POS system enables a merchant to process straight or budget credit card and debit card transactions:
Real time debit, cash withdrawals, cash backs and balance enquiries.

NuPay POS can be used within almost any type of retail environment dramatically increasing your collection rate,
thereby providing a healthier cash flow, reducing the risk of cash-on-hand, service an increased customer base
as well as review efficient web based reconciliations of all fees received.
NuPay provide both fixed and mobile terminals to suite all business requirements, supported with on-site training,
call centre, technical call out service and dedicated Customer Relationship Consultants.

Call Centre working hours:
Weekdays : 6:00 – 18:00.
Saturdays : 6:00 – 14:00
Sundays Closed
Selected Public Holidays : 7:00 – 12:00

Emergencies/Limited support:
Monday : 02:00 – 06:00 and 18:00 – 24:00
Tuesday to Thursday : 00:00 – 06:00 and then 18:00 – 24:00
Friday : 00:00 – 06:00 and 18:00 – 24:00
Saturday : 04:00 – 06:00 and 14:00 – 22:00
Sunday : 06:00 – 18:00
Public Holidays : 06:00 – 18:00
Christmas day : 06:00 – 12:00

For more details please see our Authenticated Product brochure attached.